Dusit Maha Prasat Palace (23)
Bangkok
In the early Rattanakosin era, the Dusit Maha Prasat Palace was an audience hall, where affairs of the state were conducted and royal ceremonies performed. The palace was built by King Rama I in 1806 A.D. The structure is a cruciform building with large high roofs. In the beginning, the palace was intended to be as large as the Suriyat Amarin Palace of Ayutthaya.

The Dusit Maha Prasat Palace in the Grand Palace is now the only remaining example of the traditional Thai palace. Unfortunately, renovated in the reign of King Rama III, the building left no trace of the original workmanship initiated in the first reign.

The Grand Palace at The Ancient City, however, is not intended to model after the same palace as it stands today. By painstaking research and study of old photos and contemporary documents, The Ancient City has succeeded in recreating the original appearance of the palace.

As for the structural form, the Dusit Maha Prasat Palace at Muang Boran has a number of significant changes from the present-day appearance of the hall. For example, a freestanding pillar which was removed from the original palace during the reign to King Rama VI were reconstructed in the middle of the throne room. The post helps to support the large and high roof of the building. The design and color scheme of the pillars are taken' from the pedestal of the Reclining Buddha at Wat Phra Chetuphon Wimonmangkararam (or Wat Pho) in Bangkok. The style and ornamentation of the ceiling are taken from the design on wood carvings in private collections. The elaborately ornamented porch facades conform with old pictures of the ancient Thai 'prasat' building.

The gilded lacquer work between the windows is styl after the paintings at Wat Nang Nong in Thon Buri, Bangkok. They show the yearly succession of state ceremonies which were recorded by King Rama V. More precisely, the murals depict events of a governmental, religious, military and diplomatic nature and the traditional Thai way of life, Muang Boran has established these tempera murals to foster a revival of the techniques and styles used in traditional Thai mural paintings which have steadily been dying out since the King Rama III.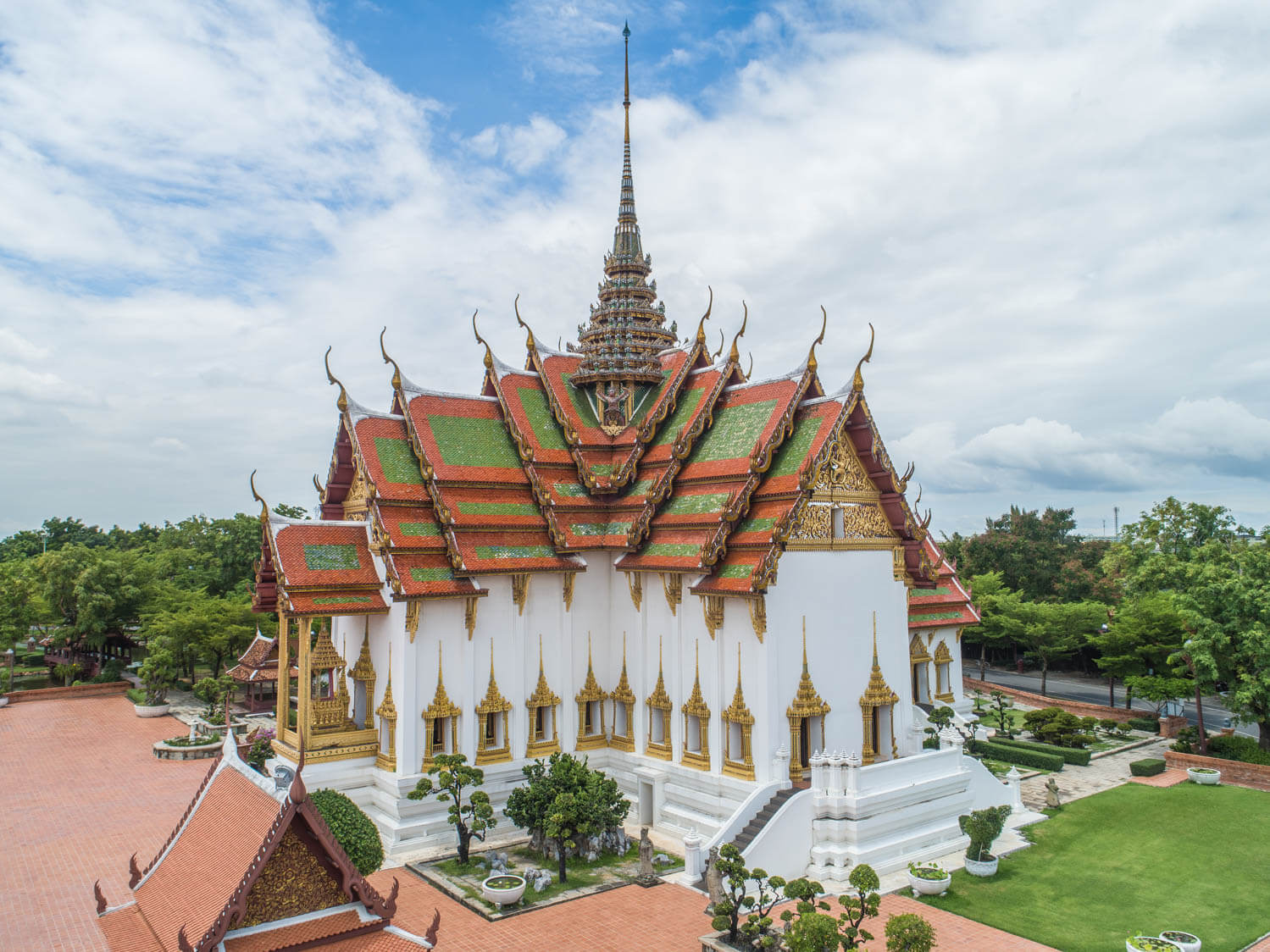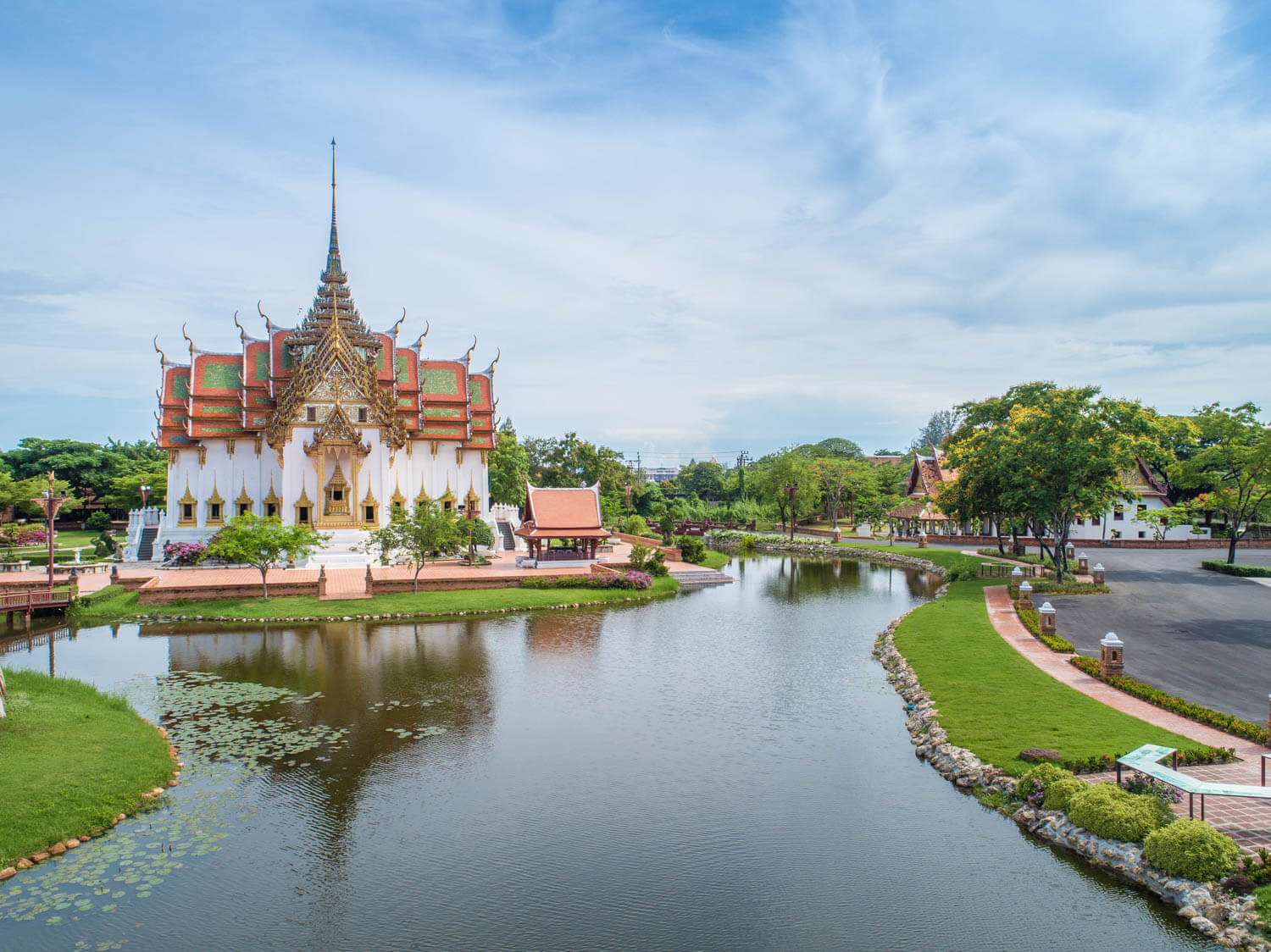 Location Dusit Maha Prasat Palace (23)
Nearby Sites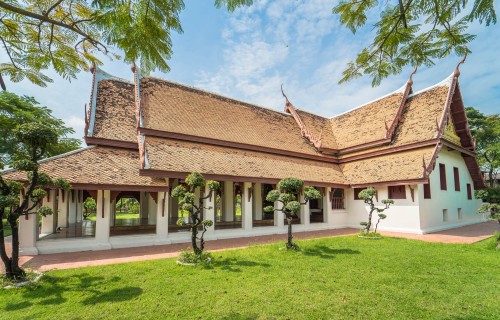 The Audience Hall of Thon Buri (16)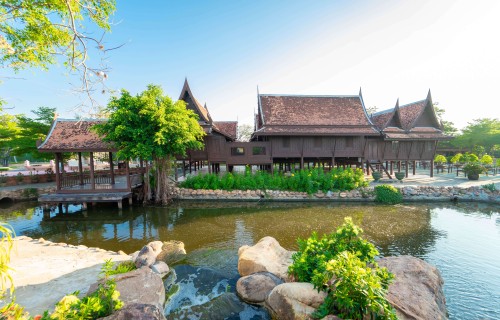 Rattanakosin Dwelling (24)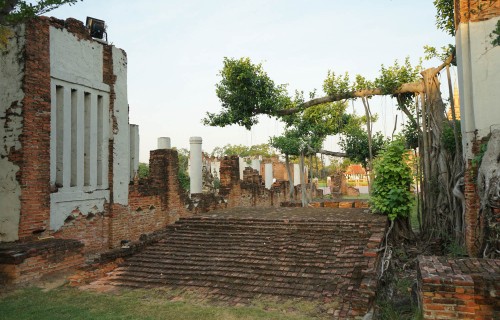 The Wihan at Wat Phra Si Sanphet (25)